Co

mmunity Update
by

Economic Development Director, Stone James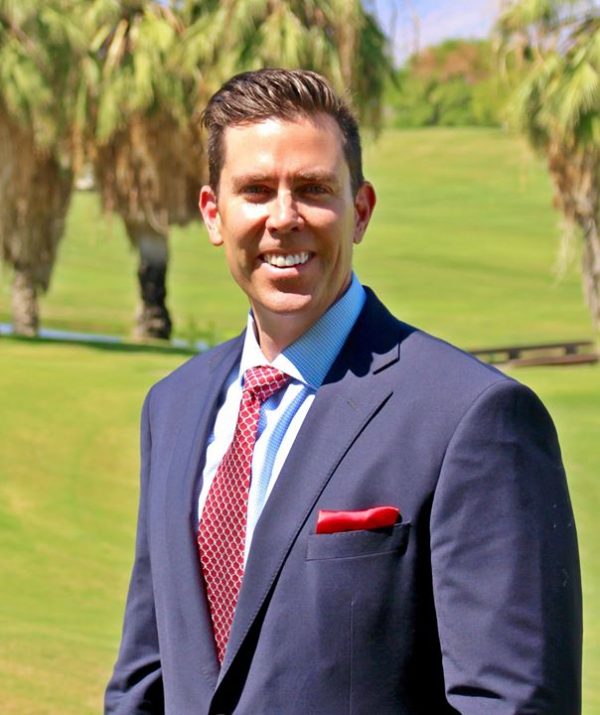 With the retirement of former Economic Development Director, Curt Watts, it is exciting to be stepping into Curt's shoes as the City's newest Director of Economic Development. I am looking forward to being a part of the City's team of dedicated professionals who are committed to serving Cathedral City's businesses and residents. That team includes seasoned Economic Development Manager, Leisa Lukes. Together, we will bring a renewed energy to, and interest in, identifying and implementing cutting edge best practices in the economic development ("ED") arena.
As a team, Leisa and I plan on leveraging our respective backgrounds to make the City an even better place to raise a family, run a business, or enjoy an exciting vacation. We will work to utilize my 25+ years of private industry and real estate development experience in order to promote new development, encourage the redevelopment of key areas, and grow City revenues. We will also work together to devote Leisa's deep experience based in planning and business development by helping to retain and expand current businesses which make up the character and vitality of our community.
While it is tempting to judge ED based solely on the number of new buildings or homes under construction, a successful economic development strategy involves so much more. In the immediate future, Leisa and I will be leveraging resources provided by organizations such as the Coachella Valley Economic Partnership (CVEP), SCORE, Coachella Valley Women's Business Center, and the Small Business Development Center (SBDC) to help educate our existing businesses so they may operate more efficiently, respond more quickly to changes in the marketplace, and pursue opportunities previously forgone. We will also work to attract new businesses and industries by educating these groups on the opportunities, resources, and the City's diverse population and employment base.
In future communications, it is my objective to keep you abreast of new real estate developments, resources, and other opportunities that will improve the City's quality of life, property values, and economic activity. All Cathedral City residents can help accelerate our economic development by making a commitment to "buy local" whenever possible and encouraging out-of-town guests to stay in one of our great hotels. It makes economic "cents" for you to keep your tax dollars within the City as your local dollars help fund local community services and programs - for you. Further, there is no better testimonial for attracting future new businesses than to make sure that our existing businesses are prosperous examples for other potentially interested enterprises to follow.
Businesses and residents that make a special effort to properly maintain their properties exemplify pride in the community. This is another important "selling point" when prospective businesses, commercial real estate agents, and developers tour our City scouting out future business opportunities.
Please share with your friends and contacts the City's dedicated websites www.DiscoverCathedralCity.com and www.ccedd.org which highlight many of our community attributes. As a team, we all play a part in the long-term success of the place in which we love to live, work, play and stay!
4th Annual Cathedral City Hot Air Balloon Festival Happens November 17-19 Get ready for the best balloon festival in Cathedral City yet! Thanks to our major sponsors (Westin Mission Hills Golf Resort and Spa, Agua Caliente Casino Resort and Spa, Volkswagen of Palm Springs, the Desert Sun, Fantasy Balloon Flights, City of Cathedral City and Burke Williams & Sorensen) the …
Cathedral City Administrators Practice Earthquake Safety for the Annual "Great ShakeOut" At 10:19 am today, Cathedral City's administrators practiced earthquake drills during its weekly departmental meeting with the city manager. This drill was part of the annual "Great ShakeOut" earthquake preparation and awareness program started in 2008. Each year, ShakeOut participants in schools, businesses, non-profits, government agencies, neighborhoods, organizations, and …
Cathedral City Proudly Supports the Annual "Día de los Muertos" Festival as the Title Sponsor On Saturday, October 28th from 11 am to 3 pm, enjoy mariachi bands, folkloric dancers, an art contest for students, a children's craft area supervised by S.C.R.A.P. Gallery, community resource tables and delicious food at the annual Día de los Muertos located at the Desert …
Cathedral City Receives a Perfect Score from the Human Rights Campaign Foundation's Municipal Equality Index for Third Year Cathedral City is 1 of 68 municipalities in the U.S. to receive the highest rating. The Human Rights Campaign (HRC) Foundation, an educational entity of the largest national lesbian, gay, bisexual and transgender (LGBT) civil rights organization, released today its annual Municipal …
Cathedral City's 3rd Annual Halloween Spooktacular - Sunday, October 29th The City of Cathedral City celebrates its 3rd Annual Halloween Spooktacular on Sunday, October 29th from 1:00 pm to 3:00 pm in Downtown Cathedral City in front of City Hall. Presented by Volkswagen of Palm Springs, Halloween Spooktacular is a safe communities, Halloween event for the entire family featuring trick …
Councilmember Shelley Kaplan Provides a Budget Update for Cathedral City In this week's Council Report by Councilmember Shelley Kaplan, he explains the process on how the City produces a budget, attempts to achieve council goals, and the systems in place to audit the City's budget. For the recently released Year-End Review of 2016-17 Cathedral City Budget, the revenues increased while …
Come and enjoy an array of pasta, friends, and music at the 2nd Annual Spaghetti Dinner on Friday, October 20, starting at 6 p.m. and located at the Cathedral City Senior Center. Nicolino's Italian Restaurant, one of Cathedral City's signature eateries, will present an elegant pasta bar with an array of sauce choices... Read more.
Come learn about the area's past and the importance of preserving the community's cultural history. Special guest speaker is Mr. Steve Lech who will take you on a visual journey along the Pines-to-Palms Highway.
Light refreshments and displays. Free admission and open to the public.
Cathedral City is proud to sponsor the annual "Día de los Muertos" featuring: mariachi bands folkloric dancers an art contest for students a children's craft area supervised by SCRAP Gallery information tables food vendors Día de los Muertos Day of the Dead A Celebration Honoring the Memory of Loved Ones Saturday, October 28, 2017 11:00 am ~ 3:00 …
The Cathedral City Police Department, Cathedral City Fire Department, City of Cathedral City's Special Events and many non-profit organizations bring to you the Halloween Spooktacular, Sunday, October 29, 2017 from 1-3 pm. The event will occur in downtown in front of City Hall, 68-700 Avenida Lalo Guerrero. Halloween Spooktacular will include free admission as well as exhibits sponsored by non-profit organizations, the Cathedral City Police Department and Cathedral City Fire Department.
Families are encouraged...
To help STOP identity theft and as a service to its residents, the City of Cathedral City is hosting FREE Document Shredding Events. The Shredding Events are the first Saturday of the month October thru May each year.
"Healing Field" is a tribute to the men and women of uniform who gave the ultimate sacrifice to our country since September 2001. The event is organized by the Cathedral City Rotary and sponsored by the City of Cathedral City. Located in Patriot Park next to Big League Dreams Sports Park at the corner of Date Palm Drive and Dinah …
Cathedral City residents can ice skate for half-price on the first Tuesday of every month (excluding holidays) at Desert Ice Castle. Just bring proof of being a Cathedral City resident, such as an Driver's license, copy of a utility bill, or any other form of residential proof. Ages 3 years and up. The Time for Public Skate Available for "Two …
Every 2nd Saturday, come to Cathedral City's Art & Design District for "2nd Saturdays Art Walk on Perez Road" where you will discover special art exhibits, museum quality art as well as cultural art to brighten your soul, meet other like-minded people, and maybe get a little exercise going from art gallery to design gallery to art gallery. It will be ARTtastic!
Mayor Stan Henry and Councilmember Shelley Kaplan Host "City Hall at Your Corner" – Wednesday, November 15th
Have an issue you would like to speak to your city councilmembers about or learn what is happening in Cathedral City? Then join us for "City Hall at Your Corner" hosted by two members of the City Council, Mayor Stan Henry and Councilmember Shelley Kaplan.
...Read more.
Cathedral City Hot Air Balloon Festival 2017
Gather the family, blankets and/or chairs for "Movies in the Park" located this season at the Downtown Festival Lawn, 68600 East Palm Canyon Drive (HWY 111) in Cathedral City. The free event, hosted by the Cathedral City Evening Rotary and sponsored by the City of Cathedral City, happens once a month on a Saturday evening every month between November and May, at 7:00 pm, except for the month of May, which begins at 8:30 pm due to daylight savings time.
You are welcome to bring snacks or non-alcoholic drinks, but you can also purchase them from the movie organizers at the concession stand. Great Family FUN! Read more.

Bring the entire family for this brand new event that shall become a tradition for Cathedral City! Snow Fest captures all the holiday spirit and places it at one event. You will enjoy an outdoor market featuring holiday arts & crafts, food, treats, and beverages including hot chocolate. At 5:30 pm, the night-time holiday lights parade begins at the corner of Date Palm Drive and Perez Road and winds its way back to City Hall where the festival portion is held... Read more.