Community Update
By Paul Wilson - Fire Chief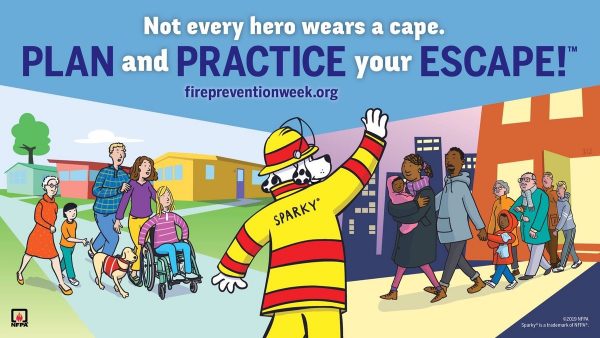 NATIONAL FIRE PREVENTION WEEK
The Cathedral City Fire Department celebrates National Fire Prevention Week on Saturday October 5, 2018 from 8:00 - 10:30 a.m. with a "Free" Pancake Breakfast and Open House at the Fire Station located at 32-100 Desert Vista Rd. (South of Ramon Rd. & West of Date Palm Dr.)
National Fire Prevention Week is held annually during October to commemorate the Great Chicago Fire, a tragic 1871 conflagration that killed more than 250 people, left 100,000 homeless, destroyed more than 17,400 structures and burned more than 2,000 acres.
Keep your family safe with a working smoke alarm in every bedroom.
Did you know that roughly half of all home fire deaths result from fires reported between 11 p.m. and 7 a.m., when most people are asleep?
Smoke alarms save lives. If there is a fire in your home, smoke spreads fast and you need smoke alarms to give you time to get out. Having a working smoke alarm cuts the chances of dying in a reported fire in half!
A ten-year sealed battery smoke alarm is recommended for every bedroom and the adjacent hallway(s) outside of the bedrooms. If your home smoke alarm is more than ten years old, it's time to replace it.
Visit the Cathedral City Fire Department website at www.cathedralcityfire.org or contact us at (760) 770-8200 for additional life safety and fire prevention information.
At the 18th Annual Southern California Transportation Summit on September 27th located at the Disneyland Hotel in Anaheim, California, the late Cathedral City Mayor Gregory S. Pettis was honored posthumously with the "Mobility 21 Lifetime Achievement Award" for his decades of work focused on transportation projects throughout Southern California. Past award recipients included United States Senators Barbara Boxer and Dianne …Read more.
In honor of California Clean Air Day, Mayor Pro Tem John Aguilar held a Tree Planting Ceremony at Century Park this afternoon while Councilmember Raymond Gregory held a similar event at Panorama Park. Assemblymember Eduardo Garcia's office presented a Certificate of Recognition to Cathedral City for its efforts to mitigate greenhouse gases and help clean the air. Trees play a …Read more.
The Cathedral City Police Department received a $70,000 grant from the California Office of Traffic Safety (OTS) for a one-year enforcement and education program. The money will fund various activities intended to reduce deaths and injuries on California roads. "We are excited to continue our partnership with the Office of Traffic Safety and use these grant funds to further our …Read more.
California has made considerable improvements to the air quality in our state since the Clean Air Act passed in 1970. However, due to being the most populated state and our continued reliance on fossil fuels, California's major cities including the Coachella Valley continue to have days that exceed safe air quality standards. In order to a raise awareness about how …Read more.
It was another packed house at The Roost Lounge last night in Cathedral City as the audience cheered on their favorite contestant in the Cat City Drag Race. They were not disappointed as every contestant brought out their very best and were competing to win in the category of "Showtunes." In fact, after the judges scores less than 1 point …Read more.
The City Council of Cathedral City, the City Urban Revitalization Corporation (C.U.R.C.) and Cathedral City Fire Department invite you to a "Groundbreaking Ceremony" on Thursday, October 10, 2019 at 8:00 a.m. for the new downtown Fire Station 411, to be built at the northwest corner of Buddy Rogers Avenue and Date Palm Drive in Cathedral City. The $8.2 million state-of-the-art …Read more.
In celebration of National Fire Prevention Week, the public can join your Cathedral City Firefighters for a free pancake breakfast on Saturday, October 5, 2019 from 8 am to 10:30 am at Fire Station 412 located at 32100 Desert Vista Road in Cathedral City. For more information, call (760) 770-8200. Read more.
The 7th Annual Sammy's International Meatball Festival will be held Sunday, October 6, 2019 from 11am to 3pm. This year the fundraiser will be held at The Boys and Girls Club of Cathedral City club facilities in Cathedral City. Location: The Boys & Girls Club of Cathedral City, 32-141 Whispering Palms Trail, Cathedral City, Ca 92234 (note this is …Read more.
Help the CCGBA find the "Royal Highness of Cat City" during the ultimate Drag Race! Up to 15 contestants will compete for the best drag over the five week competition starting on Monday, September 9, 2019 through Monday, October 7, 2019. They will be scored by five judges including local celebrity judges on originality, themed outfit, personality, and performance. But …
The City Council of Cathedral City, the City Urban Revitalization Corporation (C.U.R.C.) and Cathedral City Fire Department invite you to a "Groundbreaking Ceremony" on Thursday, October 10, 2019 at 8:00 a.m. for the new downtown Fire Station 411, to be built at the northwest corner of Buddy Rogers Avenue and Date Palm Drive in Cathedral City. The $8.2 million state-of-the-art …Read more.
Have an issue you would like to speak to your mayor about or learn what is happening in Cathedral City? Then join us for "City Hall at Your Corner" hosted by Councilmember Raymond Gregory and Councilmember Ernesto Gutierrez. The forum will take place on Thursday, October 10, 2019 from 11:30 am to 12:30 pm at the Cardenas Market, Cafe, …Read more.
Bring your swimsuit and cowboy hat for the Tejano Kick Off Pool Party on Friday, October 11, 2019 from 5:00 pm to 9:00 pm at the Holiday Inn Express, 36101 Date Palm Drive in Cathedral City. Enjoy entertainment by Tejano Lipps, Kalifazz Radio, Karlos Saucedo, and Bohemio. Cathedral City's El Portal Mexican Restaurant will be onsite for food and beverages …Read more.
Tejano PowerHouse Entertainment, City of Cathedral City and Diaz Enterprises invites you to the 3rd Annual Tejano Music Fest in Cathedral City featuring the best Tejano music, fiesta food and spirits on Saturday, October 12, 2019 from 5 pm to 11 pm at our new location, the Pavilion at Big League Dreams Sports Park in Cathedral City, California. You will enjoy our largest dance floor yet and the award winning Tejano musical groups, such as "Tejano Highway 281," "Grupo Artrapado," and "Los 2 G's," as well as local favorite, "Grupo Uniko."...Read more.
FOOD TRUCK MASH-UP is bringing the best Food Trucks together for one day only! BUY EARLY AND SAVE!! Buy tickets now through 9/23/19 and save $5 on Adult & Youth Early Access Tickets OR get BOGO General Admission tickets! MILITARY, FIRST RESPONDERS AND KIDS 5 & UNDER ENTER FOR FREE! ONE DAY ONLY!! An outdoor food truck event featuring the …Read more.
The City of Cathedral City will hold two public forums on Short-Term Vacation Rentals (STVR) in order to receive additional feedback and information from the public on this important topic. The public is encouraged to attend and provide their perspective. Saturday, October 19, 2019 10:00 am to 12:00 (noon) City Hall Study Session Room (1st Floor) 68-700 Avenida Lalo Guerrero …
Come celebrate Cathedral City High School's Homecoming by cheering on the students at the annual Homecoming Parade and Rally in Downtown Cathedral City.
The parade kicks-off at 4:30 pm on Cathedral Canyon Drive just south of Perez Road and heads south to Avenida Lalo Guerrero. The parade turns left on...Read more.
Bring the entire family for trick or treats, DJ music, hourly kids' costume contest, and an interaction with police and fire personnel and equipment. More than 30,000 pieces of candy will be given away. A safe-communities, Halloween event featuring the Zombie bus and blood drive...Read more.
Cathedral City is proud to sponsor the annual "Día de los Muertos" featuring: mariachi bands folkloric dancers an art contest for students a children's craft area supervised by SCRAP Gallery information tables Community Altar food vendors Día de los Muertos Day of the Dead A Celebration Honoring the Memory of Loved Ones Saturday, November 2, 2019 11:00 am …Read more.
The festival will bring more than 30 hot air balloons from across the United States and around the world to the Coachella Valley for a kaleidoscope of color, art, sound and enjoyment. It features balloon glows, balloon rides, LIVE musical entertainment, wine and beer garden, kid zone, food trucks, and much more. For the latest information, go to www.HotAirBalloonFest.com Food …Read more.
This annual event captures all the holiday spirit and places it at one location with a lit Main Street at Santa's North Pole, holiday music and carolers, Santa Claus, holiday tree lighting ceremony, a 20,000 Candy Cane Drop for Kids, Snow Bubble Play for Kids, children's bike giveaways, free movie at the Mary Pickford Theatre, free ice skating passes to …Read more.
America's Got Talent Singer Emily West will perform a full concert during this year's Snow Fest at the new CVRep Playhouse in Downtown Cathedral City on Saturday, December 14, 2019 at 7:30 pm. Emily West won crowds over as a finalist on America's Got Talent with her re-imagined versions of songs like the Moody Blues' "Nights in White Satin" and …Read more.