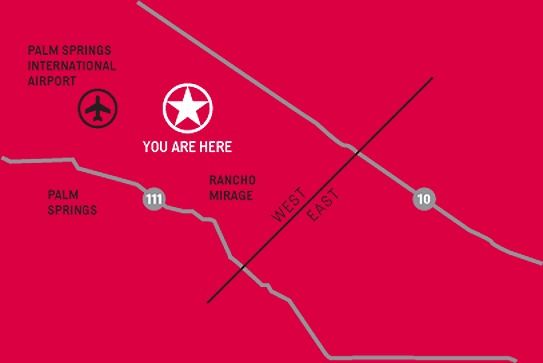 Cathedral City is conveniently located at the heart of all Coachella Valley activities. The City is a center of sporting events, family-oriented fun, unique dining, gaming, hiking, and one-of-a-kind shopping – from vintage collectibles to the new and trendy.  Visitors and Valley residents flock to its Downtown Arts & Entertainment District which features the new Agua Caliente Casino Cathedral City showcasing over 30,000 sq. feet of casino gaming, including new and exclusive slot machines, and live table games.  There you will also discover fine and casual dining along with the finest Tequila bar, 360 Sports bar, and outdoor pavilion offering LIVE musical entertainment.
CVRep Playhouse also located in the Downtown Arts and Entertainment District provides thought-provoking and innovative theater of substance. It holds a small professional theater status with Actors' Equity.  Across the street is the new Cathedral City Community Amphitheater which will open in 2021 and offer concerts, art shows, and food truck events.  It along with the nearby Festival Lawn will host numerous festivals and events including the colorful Cathedral City Hot Air Balloon Festival.  Adjacent to all the above is the 14-screen Mary Pickford Theatre which features the latest Hollywood blockbusters and acts as a screening location for the Palm Springs International Film Festival.
Home to its fair share of lush country club golf courses and exceptional hotels, Cathedral City shines as a haven for the arts and artists. Thanks to its Public Arts Initiative, visitors can discover nearly 30 works on display throughout the city, including the whimsical, mosaic-tiled Fountain of Life water sculpture that proudly claims the heart of downtown. Get to know local talent by attending a gallery on Perez Road, the city's art and design district or hunt for one-of-a-kind treasures and vintage furniture finds in the district's eclectic warehouse-style shops.
The city's name is derived from Cathedral Canyon located to the south of the city in the foothills of the Santa Rosa and San Jacinto Mountains National Monument. The canyon is said to have received its name from the Army Corps of Engineers in the 1850's because certain rock formations in the canyon were reminiscent of a cathedral.
Tidbits:
People from around the world come to visit the award-winning Mayor Gregory S. Pettis Fountain of Life water sculpture in Cathedral City's Town Square park.
Frank Sinatra's grave is located in Cathedral City at Desert Memorial Park cemetery, as are those of several other prominent figures, including actor William Powell, singer-songwriter Sonny Bono, former mayor of Palm Springs and congressman, and actress Jane Wyman.
Events and Landmarks:
Agua Caliente Casino Cathedral City
Mayor Gregory S. Pettis Fountain of Life/Town Square
Mary Pickford Theater (14 screens)
BOOMERS! amusement park
Big League Dreams sports park
Cathedral City Hot Air Balloon Festival
CVRep Playhouse and Conservatory
Mayor Gregory S. Pettis Rainbow Crossing
1st Segment of the CVLink