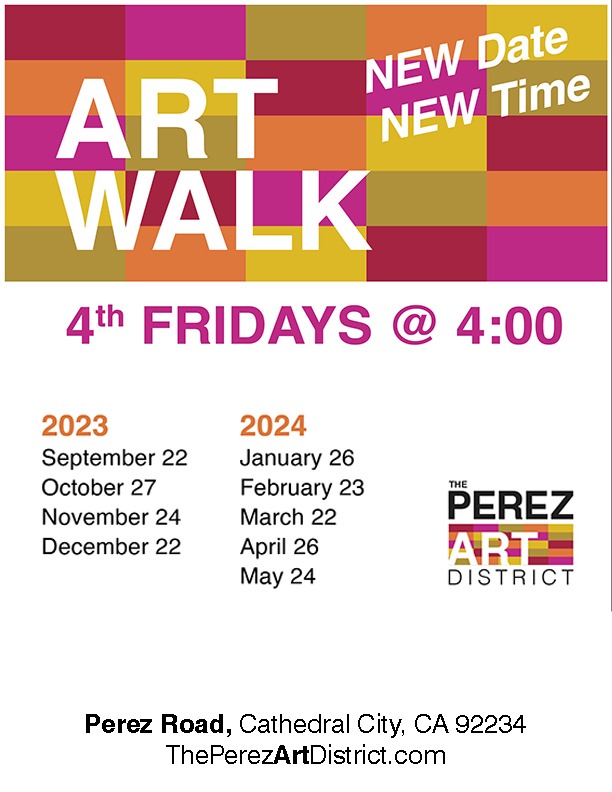 The Perez Art District's Fourth Fridays
November 24 @ 4:00 pm
-
7:00 pm
The Perez Art District's highly anticipated Art Walk occurs on 4th Fridays @ 4pm.
This is an immersive experience for art enthusiasts and the local community alike.  The Art Walk offers a unique chance to witness the creative process across a variety of disciplines, including painting, sculpture, photography, and mixed media.
Conveniently located at 68845 Perez Rd in Cathedral City, California, the Perez Art District is home to a vibrant community of artists.
Visitors to the district will have the opportunity to explore the working studios of over 30 talented artists in the H and I Buildings, with an additional 8 artists in the A and C Buildings. Additionally, some of the home and design stores and galleries in the 68929 building will participate.
To stay updated on upcoming events, follow the Perez Art District on social media:
Find us in buildings A, C, H, and I as well as in the 68929 building along Perez Rd in Cathedral City, CA.
The Art Walk starts at 4pm and runs until 7pm, allowing ample time for attendees to discover the diverse range of artistic styles within the district and then head across the walking bridge to downtown Cathedral City to enjoy a dinner out.
We look forward to seeing you on 4th Fridays @ 4pm!