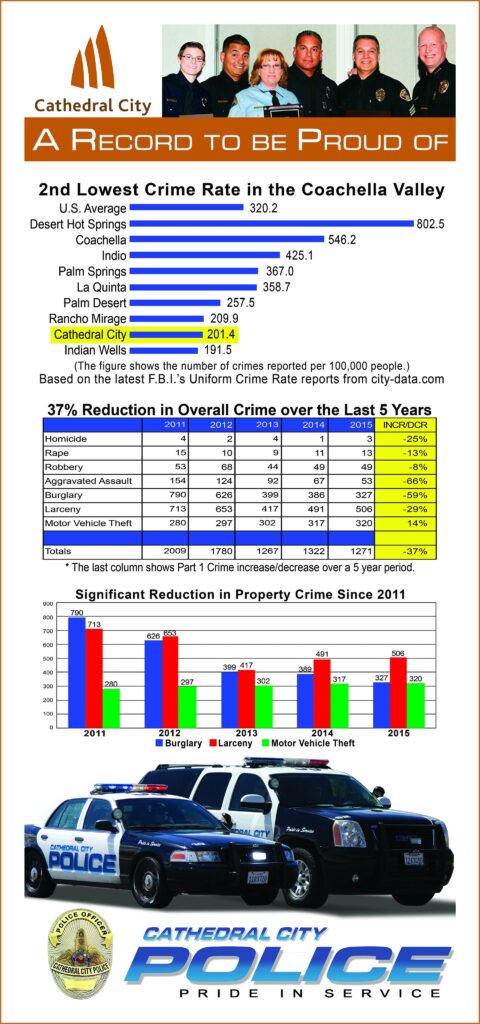 A message from Police Chief George Crum:
Recent media attention to a few high profile crimes in Cathedral City has led to a perception among some that there has been an increase in crime in the City.  As your Police Chief I understand your concerns and it is the position of the Police Department that any violent crime is too much.  It is important, however, to look at crime data in a comprehensive manner to see how crime is actually trending in our community.
In evaluating our Part 1 crimes from calendar year 2011 through calendar year 2015, I looked at the total number of crimes committed each year. Our totals for each respective year are as follows: 2011 (2009 crimes), 2012 (1780 crimes), 2013 (1267 crimes), 2014 (1322 crimes), 2015 (1271 crimes). As you can see, our total number of crimes was lower in 2015 than 2014. During the five year period from 2011 through 2015 shown in the below chart, Part 1 crimes have declined by 37 percent. In 2015, Cathedral City experienced an increase in homicide, rape, larceny and motor vehicle theft compared to 2014 and experienced decreases in aggravated assault and burglary while robbery remained the same. Overall, crime dropped by 3.9 percent in 2015 from 2014.
Many communities in Riverside County and throughout California are experiencing higher crime increases as the 2015 crime statistics are being released. The Riverside County Sheriff's Department released preliminary crime statistics for calendar year 2015 on March 7th of this year and has reported an overall increase of 7.4 percent in all reported FBI Part 1 crimes. Palm Springs experienced a 9.64 percent increase in Part 1 crimes from 2014 to 2015. Indio remained similar to 2014 and experienced a .78 percent overall increase in Part 1 crimes. Desert Hot Springs experienced a 1.61 percent decrease in their Part 1 crime from 2014 to 2015 and as stated earlier, Cathedral City experienced a 3.9 percent decrease overall in Part 1 crime from last year.
I credit the reduction in crime in our City to the community we serve and the hard work of the men and women of the Police Department. I know when the Police Department and the Community partner together; we make a lasting impact on reducing crime in our City and send a strong message to the criminal element. While one of the roles of the police is to solve crimes, crime prevention and reduction is a responsibility we must all embrace and accept within our community. When it comes to crime prevention, taking simple precautions against becoming a victim of crime is both smart and effective.  We all have a role to play in crime reduction, crime prevention and community safety. Although we continue to see reductions in crime rates in certain Part 1 crime in the City we need to continue to work closely with our many community partners to prevent and reduce crime.
The Police Department invites all of the community to be active participants in increasing the safety of your neighborhoods and businesses. If you see something, say something. If your neighborhood has a Neighborhood Watch Program, the Police Department will attend a meeting and speak with attendees. If you are interested in starting a Neighborhood Watch Program, please let us know and we will assist you. The Neighborhood Watch Coordinator at the Police Department is Lieutenant Paul Herrera and he can be reached via email at pherrera@cathedralcity.gov and his office number is 760-770-0308.