The 2018-19 Special Events Season Was Spectacular!
The annual boxing tournament this past weekend proved to be a fitting tribute to recap the 2018-19 Special Events Season – an exciting, suspenseful event with a record crowd. We started the season off with the 2nd Annual Tejano Music Festival in downtown on September 21 and powered through more than 20 festivals that connected neighbors, improved our quality of life, and generated City pride. Thousands of residents and visitors came to our signature events, such as the Cathedral City Hot Air Balloon Festival, Snow Fest, Taste of Jalisco Festival, and Cathedral City LGBT Days. Thousands more attended city or city-sponsored events such as Halloween Spooktacular, Día de los Muertos, Movies in the Park, Healing Field, Cinema Diverse, AmDocs Latino, Palm Springs International Film Festival at the Mary Pickford Theatre, Easter Kidapalooza, Restaurant Week, and Coachella Valley Battle in the Desert Boxing Tournament.
Here's a video recap tribute to the season: VIDEO LINK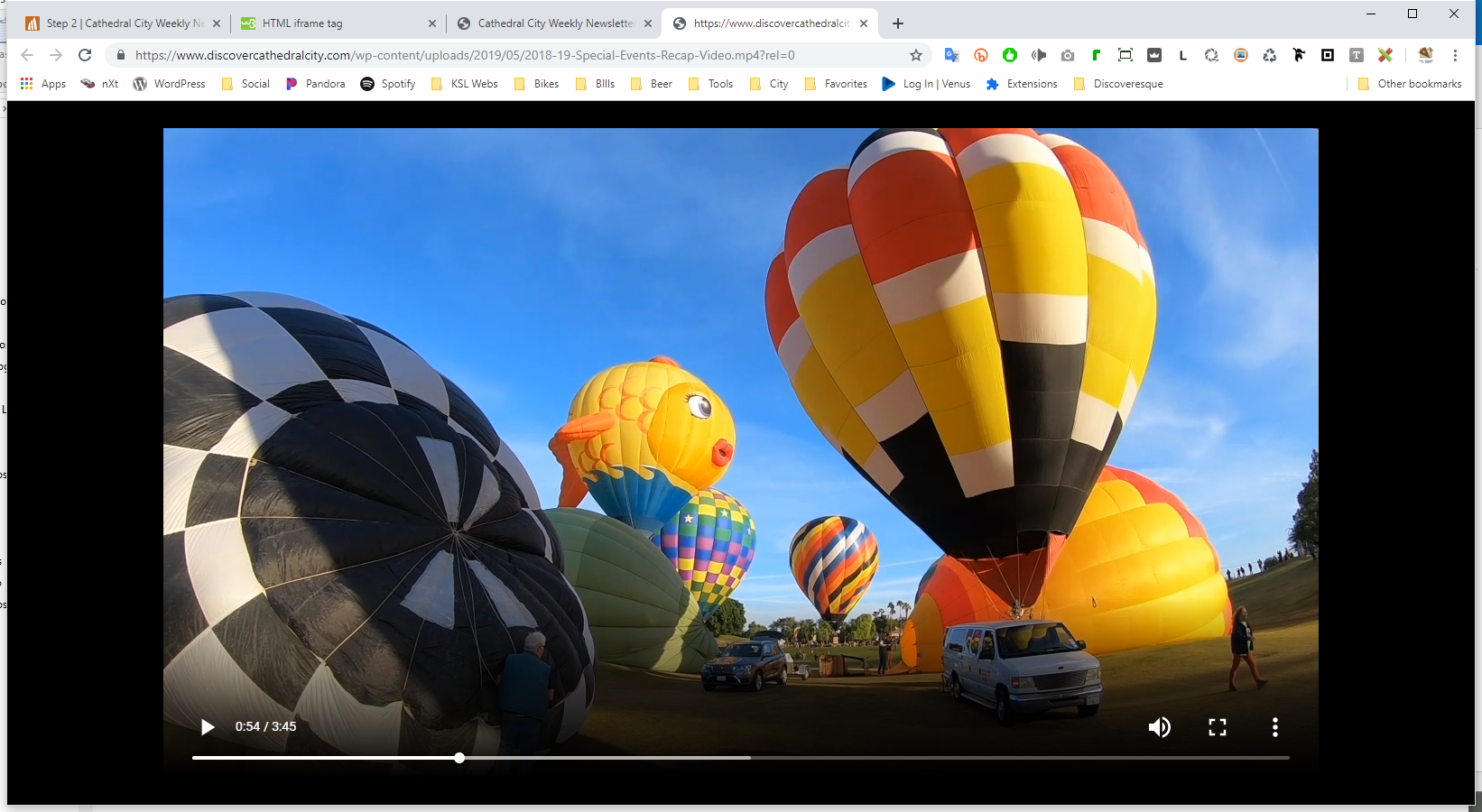 Beyond providing excitement to our residents, the signature festivals also generated significant tourism revenue. The Greater Palm Springs Convention and Visitors Bureau recently hired Tourism Economics to conduct an economic impact on Cathedral City's five main festivals. The numbers were astonishing! The Cathedral City Hot Air Balloon Festival, Tejano Music Fest, the Palm Springs International Film Festival portion in Cathedral City, Taste of Jalisco, and the Cathedral City LGBT Days combined had a direct and indirect economic impact of more than $3.9 million in total business sales for our local economy. This included purchases at the events, hotel / short-term vacation rental stays, transportation, meals, entertainment and shopping. More astonishing is the fact that the amount does not factor in the sizable economic impact by our local residents who also attended the festivals.
Equally important is how the festivals are helping to brand Cathedral City. In other words, what people are saying when you mention "Cathedral City". Our brand has changed over the last five years since I have been associated with the City. Five years ago, I heard people say, "Cathedral City is a sleepy little bedroom community of Palm Springs." Or they say, "I only pass through it to get to Palm Springs or Rancho Mirage. I don't stop." Now, people stop me and say, "Wow! What is going on with Cathedral City? They are really going places!" Or they say, "I went to the Balloon Festival and loved it!"
People throughout the Coachella Valley and beyond are noticing all that is happening in our busy, little city! With the new festivals, the new CVRep Playhouse, the building of the new Cathedral City Community Amphitheater, the refurbishing of the Mary Pickford Theatre, and the expected Agua Caliente Casino groundbreaking in downtown later this year, the excitement will only grow bigger. And because of this change in people's perception (our brand), we have new restaurants, new hotels, new lounges, new retail stores and new residents, as all of the above requires new jobs. In fact, the unemployment rate in Cathedral City dropped down to 2.7% within the last year. When you consider a 4.0% unemployment rate as being deemed a "fully-employed" community, then Cathedral City is experiencing a great economy.
Over the summer, we will be planning for the 2019-2020 special events with even more activities and entertainment that will go beyond anything we have seen before. The new downtown amphitheater will also play a major role in third party producers bringing even more entertainment options for our residents and visitors alike. To keep up with the latest information, remember to go to www.DiscoverCathedralCity.com and click on "Upcoming Events." You can also follow us on Facebook at Cathedral City Municipal https://www.facebook.com/CathedralCityMunicipal/, Twitter https://twitter.com/DiscoverCC or on www.Nextdoor.com.