Community Update by
Police Chief
George Crum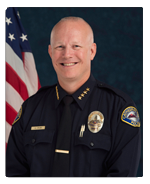 Now that we have closed out 2016, I am pleased to share with you an update on Part 1 crime occurrences in Cathedral City during 2016. Below is a chart indicating the five-year history of Part 1 crimes in Cathedral City. As we assess the crime that occurs in Cathedral City, it is important to look at crime data in a comprehensive manner to see how crime is actually trending in our community. Best of all, it is important to know that Cathedral City continues to have one of the lowest rates of crime in the entire Coachella Valley. According to Citydata.com, only Indian Wells has a lower crime rate than Cathedral City.
In evaluating our Part 1 crimes from calendar year 2012 through calendar year 2016, I looked at the total number of crimes committed each year. Our totals for each respective year are as follows: 2012 (1780 crimes), 2013 (1267 crimes), 2014 (1322 crimes), 2015 (1271 crimes), 2016 (1236 crimes). As you can see, our total number of crimes was lower in 2016 than 2015. During the five year period from 2012 through 2016 shown in the below chart, Part 1 crimes have declined by 30.6 percent. In 2016, Cathedral City experienced decreases in robbery, burglary and larceny while experiences increases in homicide, rape, aggravated assault (which includes domestic violence) and auto theft. Part 1 crime dropped in Cathedral City by 2.8 percent in 2016 from 2015.
Cathedral City Part 1 Crimes from 2012 through 2016: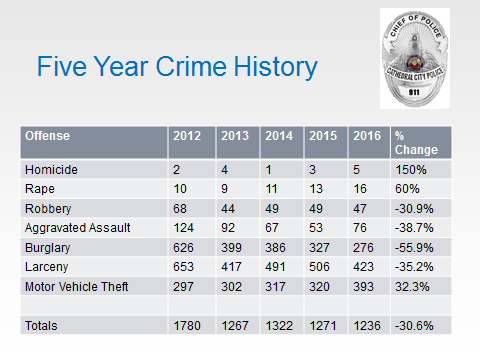 In the completion of my second year as Police Chief, your police department reduced crime by 3.9 percent from 2014 to 2015 and again 2.9 percent from 2015 to 2016. I credit the reduction in crime in our City to the community we serve and the hard work of the men and women of the Police Department. I know when the Police Department and the Community partner together; we make a lasting impact on reducing crime in our City and send a strong message to the criminal element. While one of the roles of the police is to solve crimes, crime prevention and reduction is a responsibility we must all embrace and accept within our community. When it comes to crime prevention, taking simple precautions against becoming a victim of crime is both smart and effective. We all have a role to play in crime reduction, crime prevention and community safety. Although we continue to see reductions in crime rates in certain Part 1 crime in the City, we need to continue to work closely with our many community partners to prevent and reduce crime.
As part of our on-going efforts to enhance our community engagement, we launched the Cathedral City Police Department Mobile App this week. The Mobile App allows residents to submit crime tips, report various nuisance issues, file non-emergency police reports, apply for job openings within the police department, and much more. We hope that the Mobile App can serve as a "one stop shop" for all of our city residents looking to engage with the department. We are working on translating the information in a separate part of the App for our Spanish speaking residents. The Mobile App is available in the app store for both iOS and Android devices.
The Police Department invites all of the community to be active participants in increasing the safety of your neighborhoods and businesses. If you see something, say something. If your neighborhood has a Neighborhood Watch Program, the Police Department will attend a meeting and speak with attendees. If you are interested in starting a Neighborhood Watch Program, please let us know and we will assist you. The Neighborhood Watch Coordinator at the Police Department is Commander Paul Herrera and he can be reached via email at pherrera@cathedralcity.gov and his office number is 760-770-0308.
Cathedral City Fire Department Seeks Applications for the 2017 "Safe and Sane Fireworks Program" The Cathedral City Fire Department will facilitate another year of Safe and Sane Fireworks sales, and enforcement of storage and discharge regulations for the 2017 Independence Day holiday. Firework stand applications and program instructions will be available to non-profit groups beginning April 3 at 7AM. Applications …
LGBT Days this weekend featuring Martha Wash, Ultra Naté, Leslie Jordan, and other cast members from "A Very Sordid Wedding" including Ann Walker, Kirk Geiger, Rosemary & Newell Alexander . Come to Cathedral City's Civic Center Plaza, 68700 Avenida Lalo Guerrero, Cathedral City, …
Videos In case you were unable to make it to Cathedral City's "State of the City" address on Tuesday, March 21, 2017, then here are the five videos that were shown. We will provide a complete Address and videos as soon as possible. Enjoy! Mayor Stan Henry https://youtu.be/OhSD7X73qgs Mayor Pro Tem Greg Pettis https://youtu.be/l-5BUBWC-Ys …
Come see some of your favorite singers and actors for FREE! Join us at Cathedral City's Civic Center Plaza, 68700 Avenida Lalo Guerrero, Cathedral City, CA this weekend (March 24 & 25) to see LIVE performances of Ultra …
Check out all the fun that will happen during the Royal Caviar Festival & Masquerade in Downtown Cathedral City on April 1, 2017. The festival takes place at the Civic Center Plaza, 68700 Avenida Lalo Guerrero. Here's a promotional video to tell you more... https://youtu.be/W-xwZpvM8GQ Tickets are available at: …
More LGBT Days Activities at LGBT Businesses in Cathedral City Besides coming to Cathedral City LGBT Days to watch the LIVE Performances of Martha Wash, Ultra Naté, and Leslie Jordan as well as the hilarity of the LGBT Days Bed Race; you will also want to check out all the activities at our local LGBT businesses. The Barracks Bar, CCBC …
New Restaurant Opens in Downtown Cathedral City Amazing! That is what you are going to say after eating at Cathedral City's newest downtown restaurant, "Justin Eat & Drink." Located at 68784 East Palm Canyon Drive, Chef Justin was a former chef at Wally's Desert Turtle in Rancho Mirage and has recently decided to open his own restaurant. The quality of …
Cathedral City LGBT Days Bed Race Join all the fun and laughter next Saturday, March 25th at 11:00 am for the Cathedral City LGBT Days Bed Race presented by Westin Mission Hills Golf Resort & Spa and featuring the "Heavenly Bed" with celebrity rider Actor Leslie Jordan. The LGBT Days Bed Race is our Pride Parade with a little drama …
Thanks to the generous donation by Tom Lavin, the Palm Springs Animal Clinic is hosting a Free Spay & Neuter Clinic for Cats and Dogs for Cathedral City residents on Friday, March 24, 2017 at Ocotillo Park, 33300 Moreno Road, both in Cathedral City.
Space is limited. To sign up, please call (760) 416-5718.
25 th Annual Senior Inspiration Awards Luncheon to be held Friday, March 24, 2017 at the JW Marriott Desert Springs Resort & Spa in Palm Desert. This valuable event promises to be a tribute to our community's valuable volunteers who have continued their community involvement in their senior years
The Senior Inspiration Awards recognizes and honors 11 unsung heroes from each Coachella Valley city and the County of Riverside, who are role models to us all. This year's honorees are: ... Read more.
The Cathedral City Public Arts Commission is sponsoring the Inaugural LGBTQ Invitational Art Show as part of the City's LGBT Weekend. Over twenty, established LGBTQ artists from all over the Coachella Valley, were invited to participate in this event. It is being held in the City's newly named "Cultural Arts Museum" ...Read more.
California's first "Pride" of the year Come celebrate diversity at the Cathedral City LGBT Days, March 24-26, 2017 in Downtown Cathedral City as well as Cathedral City businesses. All non-ticketed events are free and open to the public.
For all information, CLICK HERE
Gather the family, blankets and/or chairs for "Movies in the Park" located this season at Ocotillo Park, 33300 Moreno Road in Cathedral City. The free event every month at 7:00 pm, except for the month of May, which begins at 8:30 pm due to daylight savings time.
You are welcome to bring snacks or non-alcoholic drinks, but you can also purchase them from the movie organizers at the park's concession stand. Great Family FUN!
To help stop identity theft and as a service to its residents, the City of Cathedral City is hosting free document shredding events. The shredding events are the first Saturday of each month, October thru May of each year.
2016 Dates: October 1, November 5, and December 3
2017 Dates: January 7, February 4, March 4, April 1, and May 6
Time: 8:00 am to 9:00 am, please arrive early – once the shredding truck is filled to capacity the event will end.
Location: 68510 East Palm Canyon Drive (adjacent to the Festival Lawn)

* ROYAL CAVIAR FAMILY FESTIVAL from 2 PM – 5 PM !
Family Festival: Caviar Tasting included, Gourmet Food, Bar, HUGE PRIZES & FUN COMPETITIONS for Families & Kids, Magicians and Acrobats, Show-Acts, DJ, Fun Music, Dance, little Mister and little Miss Popular, Great Food & Great People.
* MASQUERADE PARTY 18+ from 7 PM – OPEN END !
Dresscode: Red & Black preferred eg. Venitian Costumes and Masks.
Evening Party Adults only: Caviar Tasting included, Bar, Gourmet Food Catering, HUGE PRIZES & FUN COMPETITIONS (Mister and Miss Red & Black Royal Elegance, Mystery Prince Search, Mister and Miss Popular), Entertainment Acts and a FUN NIGHT TO MEET GREAT PEOPLE ... Read more.

The "Fight the Bite 5K and Community Resource Fair" is organized by the Coachella Valley Mosquito and Vector Control District and aims to raise awareness about:
• the dangers of mosquito-borne diseases in the Coachella Valley
• future threats from invasive mosquito species recently detected here
• tips on what can be done to prevent mosquito breeding and mosquito bites ... Read more.
Children's Art Party for children and elders. NEW Location this Month: The SCRAP Gallery and the Agnes Pelton Society hosts the Children and Elders monthly Art Party at the Cathedral City Art Gallery, 68895 Perez Road, Suite I-27 (across from Frankie's Italian Bakery) on the Second Saturday of each month from 1-3 PM. Admission is free. Participants create art pieces …
Every 2nd Saturday, come to Cathedral City's Art & Design District for "2nd Saturdays Art Walk on Perez Road" where you will discover special art exhibits, museum quality art as well as cultural art to brighten your soul, meet other like-minded people, and maybe get a little exercise going from art gallery to design gallery to art gallery. It will be ARTtastic!
Have an issue you would like to speak to your city councilmembers about or learn what is happening in Cathedral City? Then join us for "City Hall at Your Corner" hosted by two members of the City Council, Greg Pettis and John Aguilar.
"City Hall at Your Corner" is scheduled once a month at various locations throughout the City and at different times of the day to make it accessible to most schedules and close proximity to all residents. It is your opportunity to share your ideas, let the council know your concerns, and also hear the latest news. Best of all, the discussion is free!
Bring the kids to Cathedral City's Town Square Park in downtown for an event that's all about Kids! From 12 (noon) to 3:00 pm, kids will enjoy the fun of multiple bouncy houses around Cathedral City's Fountain of Life area.
At 12:30 pm - there will be an Easter Egg Hunt with 10,000 eggs! ... Read more.
Gather the family, blankets and/or chairs for "Movies in the Park" located this season at Ocotillo Park, 33300 Moreno Road in Cathedral City. The free event every month at 7:00 pm, except for the month of May, which begins at 8:30 pm due to daylight savings time.
You are welcome to bring snacks or non-alcoholic drinks, but you can also purchase them from the movie organizers at the park's concession stand. Great Family FUN!
Come watch police officers and firefighters box in the main ring on the Lawn Festival in Downtown Cathedral City. Doors open at 5:00 p.m. 1st boxing match starts at 6:00 p.m.